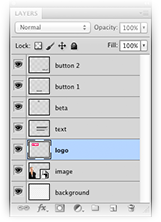 PSD File
standard .psd file
multiple layers with transparency
layer effects and adjustment layers
need to be rasterized
only 8bit RGB supported

layer masks are currently not
supported and must be applied
to layers
max. 80mb filesize
for optimum colors please use sRGB color profile
HTML/CSS
html file with div layers
layers with png images set to
absolute positions
div layer IDs from layer name

use a standard html editor
to go from here
Not intented for creating Themes!
This service can not be used to create out-of-the-box themes for any CMS (content management Systems) like Wordpress, Joomla, Drupal or shop systems like Magento, Shopware, Plentymarkets, OXID, xtCommerce or others ! These systems rely on HTML-text based content and grow their dimensions with changing content. PSDTOWEB creates non-sizable images of each element and can't be used as a theme.
Like this service?
Please donate

to keep it free!

Creating and maintaining this service takes a lot of time and money
Please help us keeping it free by considering a donation.
Why web
to

psd?

As a web agency a lot of our work consists of exporting image elements from photoshop and manually adding each of them in html files to rebuild the original photoshop layout of websites. To save ourselves some time and speed up the process we created this service as a quick solution to build the basic html needed for simple pages and larger projects. Also it will enable anyone capable of using Adobe Photoshop to create pixel exact web layouts in a breeze.
Need more

than just basic html? Try us!

As mentioned before we are a web agency and are handling web projects of virtually any size for our clients. Basic pages as well as large platforms are part of our portfolio which you can find on www.lightweb-media.de. We offer sites based on basic html and a large number of different CMS options - including Wordpress and Drupal - and technologies (PHP/SQL,AJAX/jQuery,HTML5,Web-Apps). Don't hesitate to contact us.